If you want excellent supports for your child you might want to consider an Equipment Package.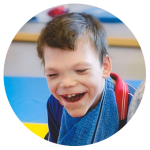 These packages provide tailor made access to Allowah's expertise in assessing, sourcing, adapting and fitting specialist equipment.
We can help you with:
Communication equipment or technology
Home Enteral Feeding equipment
Equipment for your child's personal care
Equipment required to keep your child safe
Equipment for walking
Equipment for environmental control
Equipment to manage muscle tone
Wheelchairs
Equipment for standing
And much more!
Allowah can also provide you with support to work out what equipment or technology your child requires and provide training on how to use it.
NDIS Funding
Your child may be able to purchase an Equipment Package if they have NDIS Funding for:

Improved daily living skills
Assistive technology
Core Support funding
Equipment support can be arranged without NDIS funding on a fee for service basis.
If you would like to start a conversation about an Equipment Package get in touch by calling Ph:88773400 and asking for the Director of Disability Support Services or email DSS@allowah.org.au or click the button below to start a conversation today.
Start a Conversation Now